History & Mission
Mission Statement
It is the goal of the Macon Mosquito Abatement District to reduce mosquito annoyance and potential disease transmission by the mosquito using the safest and most environmentally sound methods available. It is our responsibility to do this while protecting the public and the environment from inappropriate risks. The district uses a variety of methods and approaches to accomplish this task.
History
The Macon Mosquito Abatement District was established in July, 1961 under the Mosquito Abatement Act (Chapter 111 ½, par. 73.990) by the Illinois Legislature in September 1927.  When the District was formed the Sangamon River was included as it feeds Lake Decatur, then exits to the southwest accounting for its irregular shape.  We serve the residents of Decatur Township and parts of the following townships:  Blue Mound, Harristown, Hickory Point, Long Creek, Oakley, South Wheatland and Whitmore Townships.
Macon Mosquito Abatement District Board of Trustee Meetings
The regular scheduled Board of Trustee meetings for the Macon Mosquito Abatement District for the 2020 calendar year will be held on the following dates;
Thursday, January 16, 2020
Thursday, February 20, 2020
Thursday, March 19, 2020
Thursday, April 16, 2020
Thursday, May 21, 2020
Thursday, June 18, 2020
Thursday, July 16, 2020
Thursday, August 20, 2020
Thursday, September 17, 2020
Thursday, October 15, 2020
Thursday, November 19, 2020
Thursday, December 17, 2020
All meetings will take place at the MMAD office located at; 3755 Cundiff RD, Decatur, IL 62526 starting at 6:15 pm.
Board Meeting Agendas & Minutes
Board Members
Board of Trustees
A five-member Board of Trustees governs the Macon Mosquito Abatement District. Trustees are residents of the District and are appointed by the Macon County Board President. Trustees serve without compensation, 2-year or 4-year terms.
President – Tom McQuistion
Vice President – Sue Phillips
Secretary – Carol Carlton
Treasurer – Dr Robert Groesch
Assistant Secretary – Susan Kretsinger
Full-time Staff
Director – Jason Probus
Summer Staff
8 Licensed Field Technicians
Receptionist
Licensed Field Inspector
On average, a resident with a home value of $75,000 in the city of Decatur is taxed less than $10 for the Macon Mosquito Abatement District.
These tax dollars are used to protect public health by monitoring and controlling mosquito populations and the viruses they carry. Over 900 sites, public parks and service requests are monitored on a weekly basis throughout the season.
Macon Mosquito Abatement District Coverage Map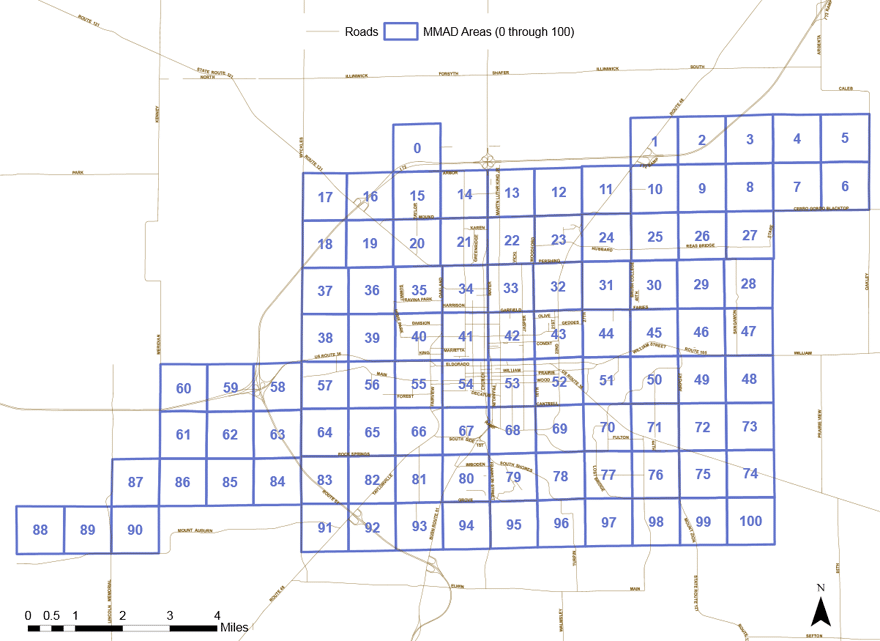 How Do I Know If I Am Covered?
The MMAD lies within Macon County but does not include all of Macon County. Find out if you live within the District boundaries by following these steps:
Visit the Illinois Property Tax Public Inquiry page.
Then, Enter your Last Name or Street Address.
Once your General Information is shown, click on Tax Districts.
If you are in our District, it will say "MACON MOSQ ABATE".